Once in a Blue Moon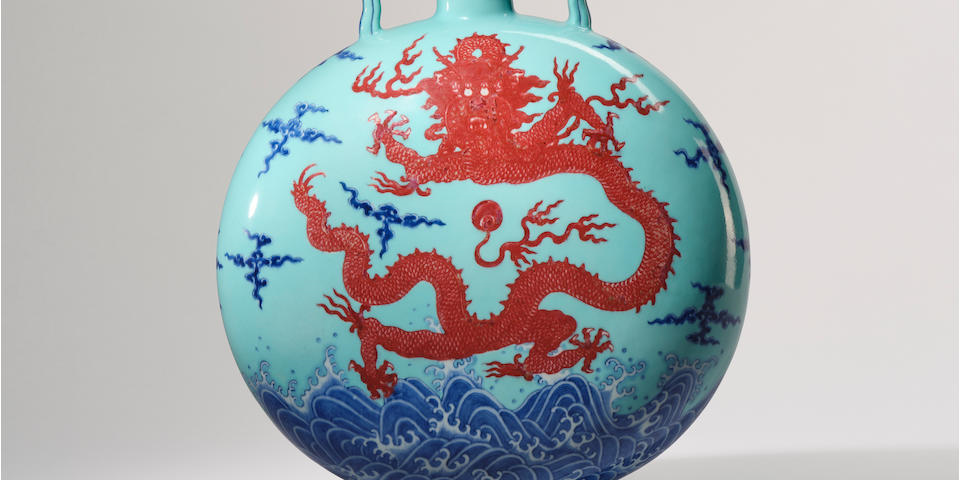 The Liddell Moonflask to Beam at Bonhams Chinese Art Sale in Hong Kong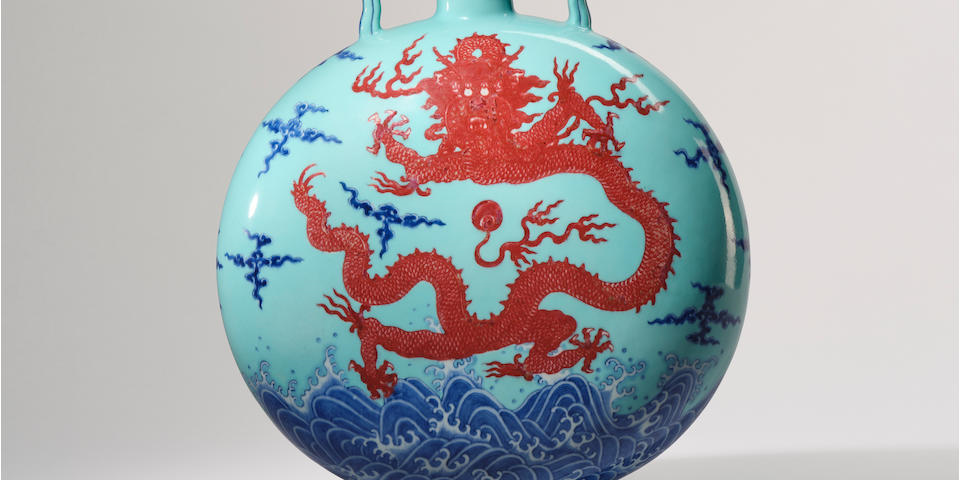 A magnificent and rare Imperial turquoise-ground underglaze-blue and copper-red 'dragon' moonflask, bianhu. Qianlong seal mark and of the period. Estimate: HK$18,000,000-25,000,000.
One of only three known surviving turquoise-ground underglaze-blue and copper-red 'dragon' Qianlong moonflasks emerges onto market after a decade.
Not many underglaze-blue and copper-red dragon moonflasks produced during Qianlong's reign were lucky enough to survive in history, and their colour-glazed counterparts are even harder to come by. Amongst all colours, to find one in the arresting turquoise glaze is almost an impossible task of all, for there are no more than three examples known to exist to date. One of them, which sports a distinct lime-green underside, will now be offered as a star lot at Bonhams Chinese Ceramics and Works of Art sale on 30 November in Hong Kong. The exceptionally rare Liddell Moonflask carries an estimate of HK$18,000,000-25,000,000.
The name 'moonflask', or baoyueping, meaning 'embracing the moon', is inspired by its flat-sided but full-bodied form which resembles a full moon. The moonflask has a long history dating back to the Song and Yuan Dynasties, when ceramic flasks of a similar shape would be tied to the side of a horse saddle. During the Ming era, it evolved into a highly decorative ware, the style of which was later reproduced during the Kangxi and Yongzheng periods. But it wasn't until the reign of the Qianlong Emperor, who admired styles from the past, when the moonflask regained dominance. New shapes and styles were invented as the Imperial kiln experimented with new firing approaches, building a legacy of not just underglaze-blue and copper-red moonflasks, but also a handful of coloured-glazed (such as yellow and lime-green) examples. Among them, the colour turquoise is the rarest of all.
The smooth white body of the Liddell Moonflask is perfectly formed in a softly flattened shape of a full moon, complemented by the delicate handles and perfectly proportioned neck and foot, to the strongly delineated deep copper-red five-clawed dragon emerging from dramatically rolling and splashing waves. The technical perfection of the painting, enamelling and control of the turquoise glaze during firing, all bear hallmarks of the pinnacle of porcelain making during the reign of Qianlong, as famously supervised by Tang Ying in the Imperial kiln in Jingdezhen.
The Moonflask was originally acquired by Captain Charles Oswald Liddell in China, where he lived and conducted business from 1877-1913. For nearly four decades, Liddell had formed his collection by purchasing mostly from two significant sources: the collection of Prince Chun, the last Regent of the Qing Dynasty; and from the collection of the private secretary and adviser to statesman Li Hong Zhang. Liddell, who had a discerning eye, understood from early on the distinction between the extraordinary Imperial porcelain and the export Chinese wares decorating the interior of many great English country houses at the time. His collection, which was then carried back to the UK and exhibited, was highly regarded as one of the earliest English collections to represent a true 'Chinese taste'.
Gigi Yu, Bonhams Head of Chinese Ceramics and Works of Art, commented: "The Liddell Moonflask encapsulates the consummate achievements in porcelain production during the Qianlong period, but what makes it truly exceptional is how rarely it comes to the market – it was ten years ago the last time it appeared at auction, a beautiful occasion which I was honoured to be part of. Completely unseen throughout the past decade, this can perhaps be quite fittingly called a once-in-a-blue-moon flask for collectors, and now it is our pleasure to offer it once again."
Stay tuned for announcements of further highlights from Bonhams Hong Kong Autumn Sales 2022.