Legends of Music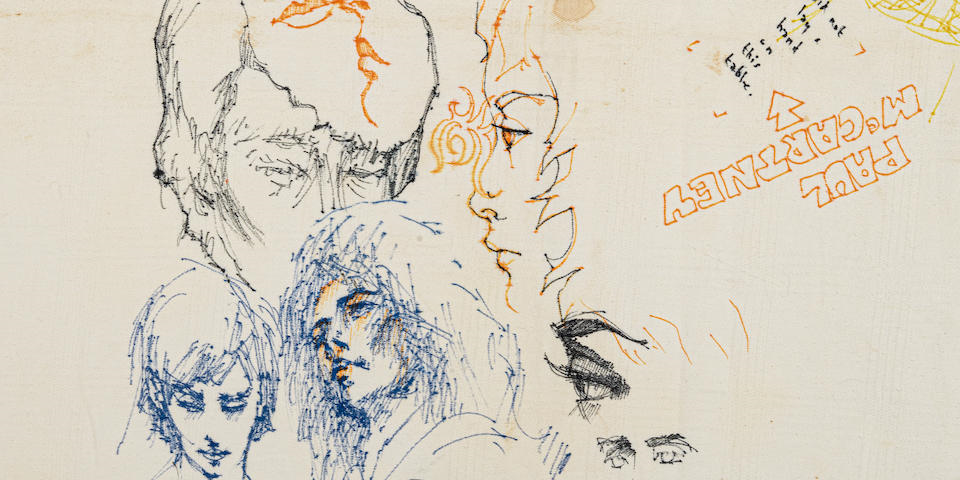 The Beatles, Billie Holiday, John Coltrane and More at Bonhams Music Auctio
Los Angeles – An alto saxophone played by John Coltrane, a tablecloth signed and doodled on by The Beatles and Joan Baez on the night of the Beatles' last ever live performance, a dress Billie Holiday wore on stage, and other objects documenting the history of 20th Century Music will be presented in a Bonhams online sale, Music, from October 7 – 19. The sale brings together a curated selection of instruments, autographed documents, vintage tour posters, photographs, and personal items.
A highlight of the sale is a saxophone played by John Coltrane (1926-1967) on a Prestige Records recording with Gene Ammons' All Stars in 1958, estimated at $50,000 – 70,000. A titan of American jazz and 20th century music, Coltrane borrowed this alto saxophone from Ira Gitler, jazz historian and Down Beat Magazine editor, for the historic recording. It was Gitler who first coined the phrase "sheets of sound" to describe Coltrane's unique style.
The sale will also feature a tablecloth used by The Beatles at dinner in the locker room before their last ever live performance at Candlestick Park, San Francisco in 1966, featuring autographs and drawings by the Fab Four and by Joan Baez, estimated at $15,000 – 25,000. Additionally in the sale is a note written by John Lennon (1940-1980) during a secret meeting with the Le Dain Commission of Inquiry into the Non-Medical Use of Drugs in December 1969. The note includes Lennon and Yoko Ono's birth dates as well as time and place which was intended for the completion of an astrological chart by the photographer's wife present at the meeting, estimated at $3,000 – 5,000.
Additional sale highlights:
• A rare collection of Billie Holiday (1915-1959) material from the estate of her last husband, Louis McKay, including a collection of signed bar checks (estimate: $1,000-1,500), signed photographs (estimate: $1,000-1,500 each), a signed contract agreement for a three-night appearance at the Mars Club dated November 15th, 1958 (estimate: $1,000-1,500) and a beaded gown worn on stage in 1957 (estimate: $2,000-3,000).
• A Travis Bean guitar neck #714, used and owned by Jerry Garcia (1942-1995) with his favored 1975 Travis Bean TB1000A guitar, estimated at $20,000 – 30,000. Garcia was the lead guitarist, lead singer, and songwriter for the rock band The Grateful Dead and was inducted into the Rock and Roll Hall of Fame as a part of the band in 1994.
• The Doors, L.A. Woman (1971, Elektra Records) signed by Jim Morrison (1943-1971) and inscribed 'Dream over here', estimated at $4,000 – 6,000. This is the sixth and final album released with Morrison, who was the lead singer of The Doors and an influential figure in rock and roll, before his tragic death a few months later.