Heritage's Two-Day Auction of Glass, Ceramics and Decorative Arts Brings in More Than $2.7 Million

A trove of glass and pottery from the 20th century to the present sets records for established and emerging design stars
DALLAS, Texas (Oct. 4, 2022) — The collecting world's love affair with art glass appears unstoppable, as late-September back-to-back sales of groundbreaking 20th century and contemporary decorative arts and design brought record auction results to Heritage Auctions and a number of living artists. The two-day event realized more than $2.7 million and points to the enduring appeal of historic Art Deco and Art Nouveau glass from the likes of Tiffany Studios and R. Lalique, as well as the strengthening desirability of works by such contemporary glass and ceramic artists as Laura Donefer and Richard Jolley.
On Sept. 28-29, Heritage presented a two-part sale with the first focusing on Art Nouveau and Art Deco glass and the second on contemporary glass works. The two-day event broke auction records for more than a dozen contemporary artists and realized above-estimate prices for singular works by Tiffany, Lalique and more.


It was exciting to see buyers from around the world buy more than 220 works of contemporary glass, which is the largest collection of glass sold at auction in recent years," says Brent Lewis, Heritage's Director of Design. "The many auction records set attest to the quality of the collection and the growing stature of this market."
The Sept. 29 contemporary auction brought in more than $1.5 million and set auction records for artists Laura Donefer, Sidney Hutter, Richard Jolley, Richard Royal, Jan Exnar, Therman Statom, Colin Reid, Robert Comploj, Claire Kelley, Karen Bexfield, Mark Lewanski, Damian Priour, Cesare Toffolo and Debora Moore.
Other highlights from the Sept. 29 contemporary auction included two stoneware vessels by British artist Jennifer Lee that sold for $75,000 and $42,500; a large conical stoneware bowl by Austrian artist Lucie Rie that went for $40,000; a blown-glass totem figure by the above-mentioned Richard Jolley that sold for $47,500; a 1927 vase by French artist Claudius Linossier that sold for $27,500; a closed stoneware form by Japanese-American artist Toshiko Takaezu that sold for $16,250 and glass work by Italian artist Lino Tagliapietra called Dinosaur 601 that sold for $30,000.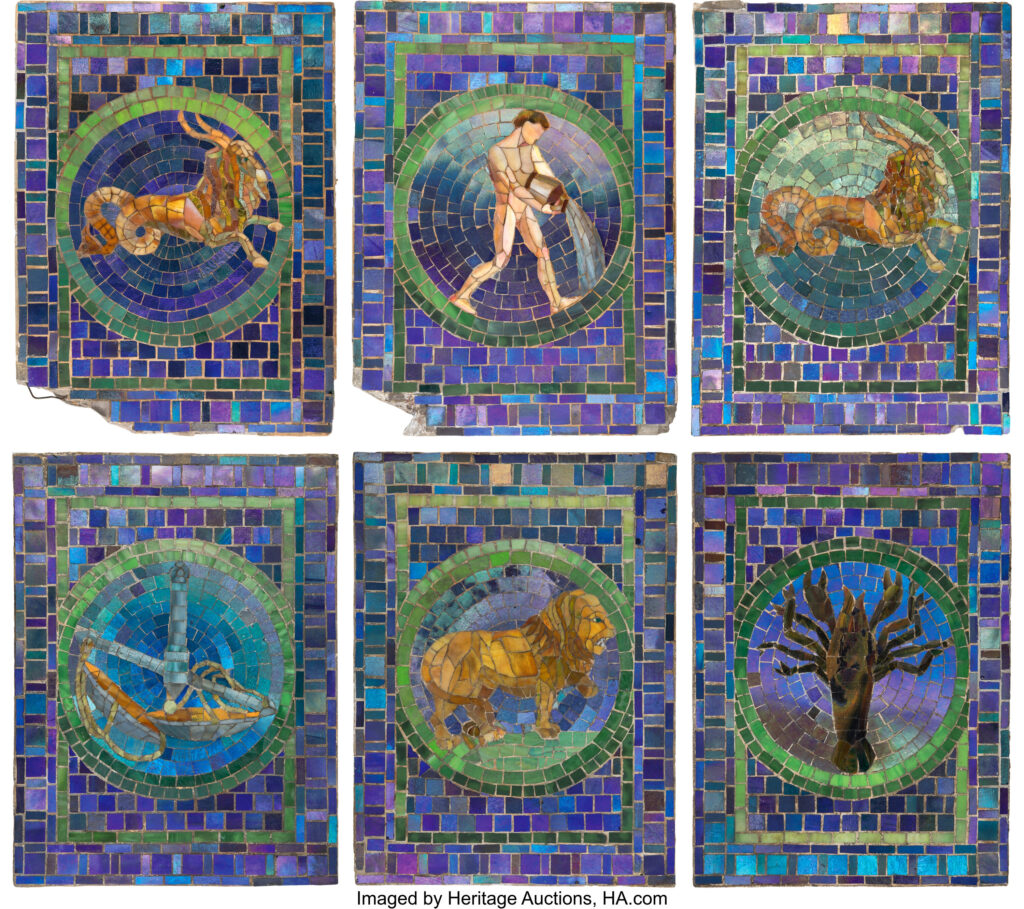 On Sept. 28, the newly rebranded Pursuit of Beauty: Art Nouveau, Art Deco & Art Glass auction reached nearly $1.2 million, demonstrating continued demand for early 20th century glass and ceramic. The auction was led by works by Tiffany Studios, with a foremost set of six exceedingly rare mosaic Zodiac panels from a grand dining room of the flagship Marshall Field & Company in Chicago that brought $57,500.
Other Tiffany Studios highlights included a leaded glass and patinated bronze Curtain Border floor lamp, circa 1910, that brought $52,500, a dogwood hanging lamp for $45,000 and a favrile glass paperweight vase for $31,250.
Other highlights from the Sept. 28 auction included R. Lalique vases in colored glass: a rare cased red glass Perruches vase, circa 1919, that brought $30,000, a 1924 amber glass serpent vase that sold for $27,500 and a 1919 electric blue glass Perruches vase that sold for $25,000.
Other well-performing French glass included a Daum acid-etched and enameled glass landscape boudoir lamp signed with the artist's initials that sold for $15,625 and an enameled glass perfume bottle for Delettrez, which soared past its pre-auction estimate of $700-$900 to achieve $9,375.
Says Consignment Director of Decorative Arts and Design Samantha Robinson, "The results of our first Pursuit of Beauty auction reaffirm that early 20th century wares in glass, ceramics, metal and other media continue to capture the attention of collectors and command solid prices more than a century later."
Heritage is now accepting consignments for its next design auctions: Pursuit of Beauty on Jan. 25, 2023, and Design on Jan. 26, 2023.
For all results from this two-day event, visit HA.com/8095 and HA.com/8091.