Claude Monet And Olafur Eliasson In Conversation At The Frick Informs Our Perception Of Color, Light, Environments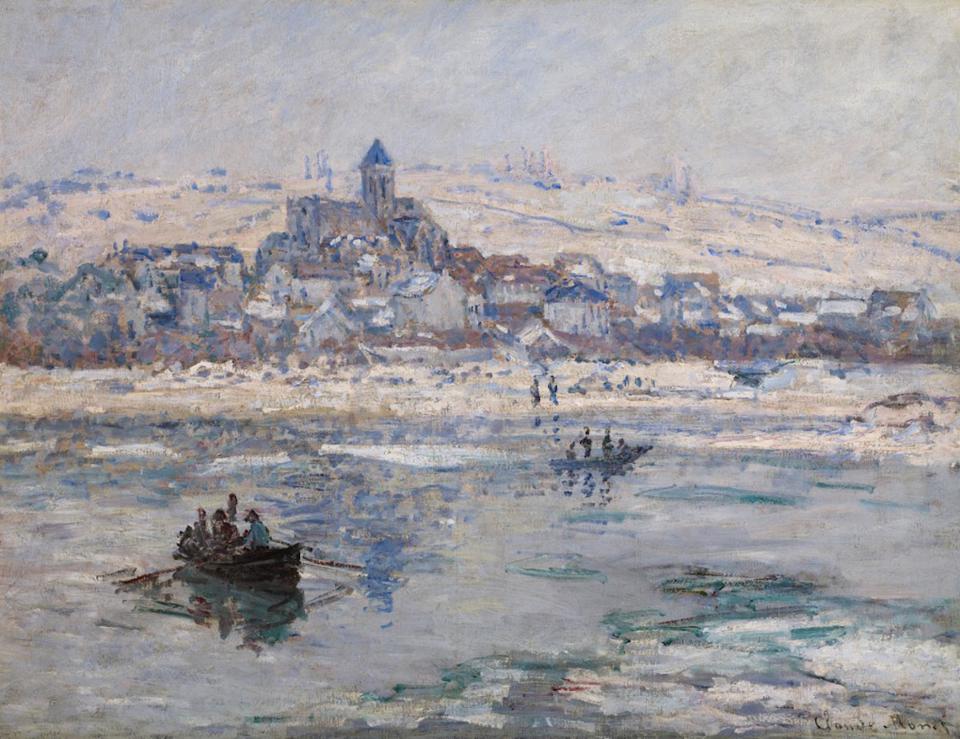 Claude Monet moved his family from Argenteuil, a northwestern suburb of Paris, to Vétheuil, a commune on the Seine some 60 kilometers northwest of the city, in 1878. His wife died a year later, but Monet's creative process continued to flourish in his new surroundings, expanding his oeuvre as a landscape painter.
Monet depicted Vétheuil from myriad perspectives through the seasons, sometimes painting from a boat on the 777-kilometer-long river. Between 1878 and 1879, Monet captured this view of a frigid Seine and Vétheuil's medieval church tower, imagery he revisited and reimagined through an array of gazes and environments.
Vétheuil in Winter, a 27-inch-by-35⅜-inch oil on canvas, is currently in conversation with a new work by Olafur Eliasson (b. 1967, Denmark) created for installation at The Frick Collection to celebrate the museum's acclaimed Diptych book series.
Two years in the making, Eliasson's work on view at the Frick is large in scope and in theory, but smaller than the sculptured and large-scale installation pieces most often associated with the pioneering Icelandic–Danish artist. As with Monet's multi-faceted exploration of his natural surroundings, Eliasson experiments with elemental materials such as light, water, and air temperature to engage the viewer and provoke an inquiry into our environments.
For Colour experiment no. 109, the Frick sent a high-quality print of a color-calibrated photograph of Vétheuil in Winter to Studio Other Spaces in Berlin, founded by Eliasson and architect Sebastian Behmann. Eliasson then abstracted the palette from the subject matter, and spread the colors out onto the surface of the round canvas in a gradient color wheel that transitions from dark to light. The circumference of Eliasson's painting is big enough to embrace the Monet within the color wheel.
Eliasson painstakingly examines how his artwork relates to his environments, whether natural or interior, such as the Frick Collection's temporary home at the Frick Madison. Viewing these two works in the former site of the Met Breuer and the Whitney Museum of American Art, while the mansion is renovated, further extends the art historical significance. When I met Eliasson and Behmann in August to celebrate their collaboration, Vertical Panorama Pavilion (2022), at The Donum Estate's 200-acre Carneros Estate vineyard, they spoke passionately about the goal of integrating every aspect of their man-made canopy with ecology.
On view through January 22, 2023, the pairing of artworks is accompanied by a publication featuring text by Eliasson and an essay by Frick Curator Emerita Susan Grace Galassi.
"From our education programs to our publications, the Frick embraces engagement in art through slow looking and shared conversation," said Xavier F. Salomon, Deputy Director and Peter Jay Sharp Chief Curator at the Frick. "The structure of our Diptychs series typifies this, and we very much look forward to the upcoming volume with its focus on Monet. The fact that the series has now inspired the creation of a work of art tied to a particular Frick painting is thrilling to us, and we're pleased to bring the book to life, in a sense, by presenting the paintings together in our galleries."
Source: Lauren Debter @ Forbes