Best Selling Artists at Auction in 2021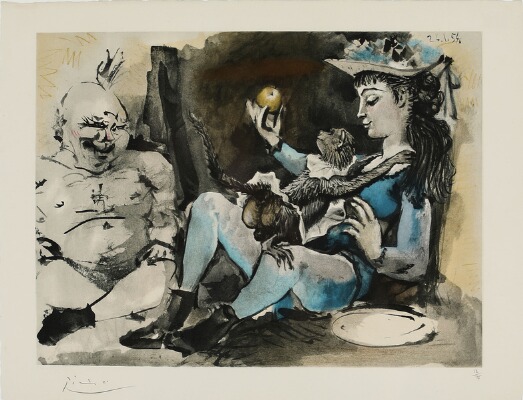 La Comedie Humaine by Pablo Ruiz Picasso
Let's take a look at top 5 best-selling artists by auction revenues to understand the trends of the previous years and to predict those of 2022.
Prolific and world renowned, Pablo Picasso's dynamic and engaging Cubist style has become a visual staple of the 20th and 21st centuries. It therefore comes as no surprise that his artworks accrued the highest amount at auction between July 2020 – June 2021. Collectively selling for $352.1 million, Picasso's paintings remain high-performing auction lots and are ever in demand by collectors – a trend we predict will not be changing soon!
Demand for the neo-expressionist American artist Basquiat also remained high over the past year, with the artist accounting for 14% of global auction turn over, according to artprice. He has become one of the most profitable artists on the global Art Market, both in Asia and the West, with collectors having spent $385.8 million on 162 lots over the last 12 months. One piece, In This Case, sold for an immense $93.1 million. With his characteristic mixing of mediums and interrogation of polarizing topics such as wealth inequality, structural racism and segregation, Basquiat remains to this day a controversial artist, whose reach and position in the art world we predict will continue to grow.
Warhol's play on consumerist images and accessibility were not exactly in line with the artistic climate of his time. However, his pop-art prints and paintings are now-iconic works of art. At auction this year Warhol's artworks raised $149.98 million (half the amount of Basquiat, yet not an inconsiderable amount!). That this 20th century artist is positioned in the top-three spots is in part thanks to the transformation of his works into digital formats (NFTs), requested by Christies and sanctioned by the Warhol Foundation.
Claude Monet's rapid brushstrokes, broken colors, focus on form and light over realistic representation were not only characteristics that would go on to define Impressionism, but are responsible for him becoming one of the most popular painters of all time. With some 2500 paintings, drawings and sketches, Monet's artworks can be found in museums and private collections around the world. His painting Meules having sold for a record-breaking $110.7 million for an Impressionist painting in 2019, this year his works accounted for $131.6 million at auction.
Banksy's real name is still unknown despite his international fame. Although originally a street-artist, he is now no stranger to art establishments and auction houses. Over the years, he has held exhibitions of live rats, disguised his own works in museums such as the Louvre and The Tate and, in 2018, destroyed one of his own works after it was sold at auction by hiding a shredder inside the frame of the painting. A boom in demand for Street Art among French and British collectors has seen Banksy reach new heights at auction this year. At auction his lots sold for an accumulative $123.3 million, including two canvases for over $10 million each, and his artwork Game Changer reached a new personal best price of $23.2 million.
Changer reached a new personal best price of $23.2 million.
Source: singulart.com