Artist of the week: Judith Leyster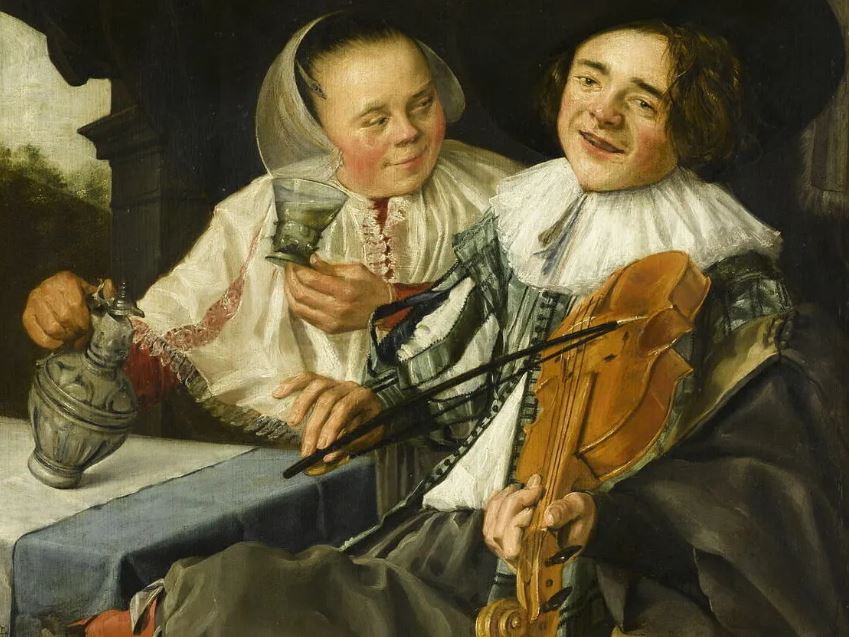 Judith Leyster, The Carousing Couple, 1630, oil on canvas, 26 3/4 x 21 1/4 inches.LOUVRE, PARIS
For more than a century, the Judith Leyster painting now at the Louvre was thought to be by Frans Hals. The misattribution wasn't completely misguided—The Carousing Couple (1630) shows a loosely painted violinist reveling with a woman who tips her glass and smiles in his direction, precisely the jolly types that the Dutch Golden Age artist was wont to paint. But it was also exactly the kind of image produced by Hals's peer, an artist who flourished in her lifetime and was then forgotten, even though her signature was always right there on her canvases and panels.
Leyster marked her works with a distinctive monogram—a combination J and L crossed by a shooting star (or 'leading star,' the meaning of her last name)—but if you didn't notice it or ignored it altogether, you could be fooled. Leyster's work was attributed to Hals so often, in fact, that this misconception had to be settled in a court of law. When British art dealer Thomas Lawrie paid 4,500 pounds in 1892 for The Carousing Couple after being assured it was a Hals and then spotted Leyster's monogram under a faked Hals signature, he sued the seller in a much-publicized case. The Carousing Couple was ultimately deemed not by Hals, Lawrie got a partial refund, and the following year a scholar wrote a groundbreaking essay about Leyster as creator of this oil on panel, attributing six more paintings to her as well. By the time the artwork entered the Louvre collection, it was listed as a Leyster.
Only around 35 works are attributed to her, making it noteworthy whenever one resurfaces. A long-lost Leyster, Boy Holding Grapes and a Hat (c. 1630), which belonged to LACMA for several decades before being sold (and disappearing) in 1977, was acquired recently by the Currier Museum of Art in Manchester, New Hampshire.
So who was Judith Leyster, and why is she important? She was one of just a few professional women artists during the Dutch Golden Age and created genre scenes, still lifes, portraits, and botanical drawings. Her hallmark was the "worm's-eye view" that captured her sitters from below, and she was among the earliest Dutch artists to introduce dramatic lighting into her nocturnal scenes. Leyster set many of her figures on a diagonal, using them to break up the picture plane and create a lively sense of movement.
Unanswered questions about Leyster's life remain as scholars piece together her presence on the Haarlem and Amsterdam scenes, but here's what we do know.
Bankruptcy puts the brewer's daughter to work
Judith Leyster, copy of Lute Player by Frans Hals, before 1624, oil on canvas, 26 x 24 inches.
Photo : Rijksmuseum, Amsterdam/Wikimedia Commons
Leyster was baptized in Haarlem in 1609, the eighth child of Jan Willemsz and Trijn Jaspers. The brood eventually adopted Leyster as their surname, naming themselves after their brewery on Bakenessergracht, and lived comfortably until Jan had to declare bankruptcy in 1625. It was around then that Judith and her siblings were put to work to help cover family expenses.
There are two possible ways she received her artistic training, but neither can be confirmed—Leyster apprenticed under either Frans Pietersz de Grebber or Hals. The only other female artist in Haarlem at the time, Maria de Grebber, was roughly Leyster's age and studying in her father's workshop, so that may have attracted Leyster. But she also copied a Hals painting, The Jester, very early in her career, which suggests she was in Hals's atelier.
Leyster goes pro
Judith Leyster, Jolly Toper, 1629, oil on canvas, 35 x 33 inches.
Photo : Rijksmuseum, Amsterdam
Leyster started monogramming her works in 1629, not long after entering the workforce. One of her earliest surviving signed works is The Jolly Toper (1629), depicting a smiling man showing us his now-empty jug, his ruddy cheeks matching the feather that slants downward from his cap.(The painting entered the Rijksmuseum collection in 1897 as a Hals, despite the monogram above the jug's open mouth.)
Most of Leyster's paintings date between 1629 and 1636, during which time she became one of the first women to join the Haarlem painters' Guild of Saint Luke, trained students of her own, and married fellow artist Jan Miense Molenaer. Shortly before Leyster joined the guild in 1633, it enacted a new charter with member requirements that illuminate what Leyster's training must have included. To be considered a master painter eligible to join the guild, candidates had to have studied for three years and apprenticed for at least one.
A year after joining the prestigious guild, Leyster opened her own workshop and instructed students. One of these trainees, Willem Woutersz, left her atelier within a week because he landed a spot in Hals's workshop. This was a breach of procedure—the move had not received guild permission—and instead of letting it slide, Leyster took it up with the guild. She demanded a quarter of her ex-student's annual tuition but got an eighth, and Woutersz was allowed to study with anyone but Hals.
Hidden layers and layered messages
Judith Leyster, Self-Portrait, c. 1630, oil on canvas, 29 3/8 x 25 5/8 inches.
Photo : National Gallery of Art, Washington DC
The many pentimenti in Leyster's works suggest that she worked out compositions as she painted instead of using preparatory drawings. A few of her works have been studied with x-ray radiography and infrared, exposing alternative compositions that Leyster considered but rejected and painted over. Infrared reflectography of Leyster's Self-Portrait (c. 1630), for example, revealed that the image of a fiddler on an easel facing the artist originally was a girl with parted red lips. And in A Boy and a Girl With a Cat and an Eel (c. 1625), the grayish kitten was in three different positions before occupying its final spot in the crook of the impish boy's elbow.
Leyster's paintings often had layered meanings, too, bearing messages about vice and virtue. Almost two-thirds of her genre paintings include figures smoking, drinking, playing games, or making music, often with a warning about the consequences of such mischiefs, as in The Last Drop (c. 1629), where two young men wrapping up a drunken night are joined by a portentous skeleton.
Leyster weds a fellow painter
Judith Leyster, Folio 29 of The Tulip Book, 1643, silverpoint and watercolor on vellum, 15 x 10 3/4 inches.
Photo : Frans Hals Museum, Haarlem, Netherlands/Wikimedia Commons
Leyster was 26 years old when she wed Molenaer, a fellow painter from Haarlem who produced genre paintings, portraits, landscapes, and religious works. (Hals painted pendant portraits of the two, likely the year they wed.) Leyster and Molenaer spent most of their married life in Haarlem and Amsterdam.
Leyster's output tapered off after her marriage, and scholars assume she devoted most of her energy to her five children—Joannes, Jacobus, Helena, Eva, and Constantijn, only two of whom survived to adulthood. "The early promise of her youthful work was not to be realized later in her life," wrote prominent Leyster scholar Frima Fox Hofrichter in the monograph Judith Leyster: A Woman Painter in Holland's Golden Age (1989).
Although most of Leyster's artworks date from before her marriage, there are rare exceptions. One of these is a 1643 botanical illustration for a tulip sales catalog, drawn around the time her daughter Helena was born. It's possible that Leyster and Molenaer collaborated and that these late works have not yet been correctly attributed.
In November 1659 Leyster and Molenaer prepared a joint will, suggesting that they were both ill. Molenaer survived, but Leyster died three months later, at age 50. She was buried on a farm in Heemstede that has since been built over, the location of her gravesite lost in the process.
When Molenaer died nearly a decade later, the estate inventory showed that the couple had amassed a rich collection of Dutch paintings from many of their artist friends, including Pieter Claesz and Jan van Goyen.
Leyster's name is forgotten, but not her paintings
Judith Leyster, Boy Playing the Flute, early 1630s, oil on canvas, 28 3/4 x 24 1/2 inches.
Photo : Nationalmuseum, Stockholm/Wikimedia Commons
After her death, Leyster's name became obscure, but oddly, her paintings remained known. Over time they were attributed to other artists, most frequently to Hals. For instance, Boy Playing the Flute (early 1630s), depicting a seated young musician whose sunlit face is turned upward toward an unseen window, was owned by the Swedish royal family for almost 150 years. Even though Leyster monogrammed it, it was thought to be by Hals, then Jan de Bray, and then an anonymous artist before it was finally attributed to her.
For centuries, in fact, no painting was attributed to Leyster, until scholar Cornelis Hofstede de Groot published his study on her a year after the 1892 Lawrie court case. A few things contributed to her lack of attributions: She left behind a small body of work and had no major commissions, her monogram (though inimitable) made it hard to identify her.
Scholars have been adding to what Hofstede de Groot began more than a century ago, contributing more attributions to the number of paintings now considered to be by Leyster's hand. Since the 1970s she has been included in surveys of women artists, and she has had solo museum exhibitions. Most of her works in museum collections are on view, not kept in storage.
Source: artnews.com